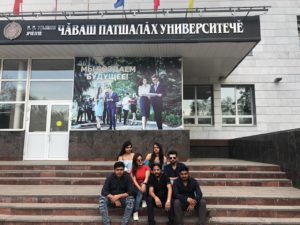 Chuvash State University is a classical university founded in 1967, it is situated in the city of Cheboksary and known as Chuvash State Medical University. It is recognized by the National Medical Commission(NMC), the World Health Organization(WHO), and the Ministry of Education and Science of the Russian Federation.
It is one of the top Medical Universities in Russia where Indian students can easily apply. The University has a large teaching staff to provide world-class education to students and also offers low tuition fee MBBS programs so it is one of the best colleges for MBBS abroad for Indian candidates.
Chuvash State Medical University has the biggest anatomy museum for medical applicants that include more than 700 original organs and human bodies for practical study. Students are introduced to the museum on the very first day at the university, they can see all the original bones of the human body.
WHY CSU?
The MBBS course at Chuvash state university is taught in the English medium.
There is no entrance exam for admission to MBBS courses at the Chuvash University.
Students are not required to give any exams like IELTS/ TOEFL to prove their English language proficiency.
The MBBS degree from Chuvash State University is recognized by USMLE, GMC, NMC, WHO, and it is also listed in FAIMER.
Students are not required to pay any kind of donation.
The tuition fees for studying MBBS at Chuvash state university are low and the cost of living is also low.
At this university, more focus is given on practical education rather than theoretical.
The faculties at this college are international faculties with excellent knowledge and experience and they are from US, UK, Canada.
The university provides all Indian dishes to students.
STUDENT'S LIFE AT CSU?
At Chuvash state university, teachers give personal attention to each and every student, as each class comprises 35 students.
The classrooms at the university are well equipped with all the necessary technologies such as microscopes, Wi-Fi, round table, skeletons, projectors, and practical specimens.
The Chuvash University is spread on acres of land with more than 7 large buildings with ultramodern facilities.
To ensure that students are physically fit to undertake medical studies, participation in sport classes are a must.
At this university, seminars are also held every weekend to provide information about new research.
To prepare students for NMC, EMI, USMLE, PLAB screening test examinations in the future, NMC tests are carried after each clinical class.
The university also organizes fresher's parties every year in the month of December for students and Indian festivals are also celebrated.