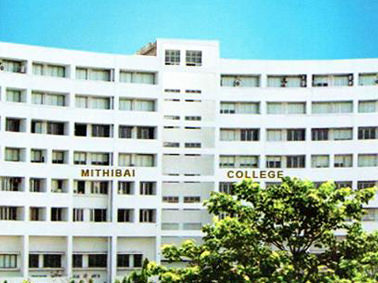 Mithibai College of Arts, Chauhan Institute of Science & Amrutben Jivanlal College of Commerce and Economics (Autonomous) is envisaged as a destination for the most talented and promising students, since its inception in 1961. The college has 32departments of which 16 are postgraduate departments with 10 of them conducting Ph.D. programmes. It has always encouraged an admission policy that favours meritorious students irrespective of their economic backgrounds. The college inculcates  values that prepares a student for academic excellence through the paths of critical thinking, a professional work ethic and the determination to be accountable.
The academic year 2018-19 is year of achievements including BEST COLLEGE AWARD of University of Mumbai.INDIA TODAY RANKING 1st RANK Science & Commerce faculty 2nd Rank Arts faculty .Also Mithibai college is honoured with Government of India DST-FIST  & DBT-Star College grants of Rs.1.5 Crores.This year is also very important UGC has conferred Grade 1 AUTONOMY for the period of 10 years without onsite visit by expert committee.
Mithibai College of Arts, Chauhan Institutes of Science & Amrutben Jivanlal College of Commerce and Economics offers students, who come from diverse backgrounds, the widest possible scope and opportunity for academic exploration and all round growth. In addition to co-curricular and extra-curricular activities offered in this college, each student is offered a platform to display his or her varied skill sets and dormant talents. These programs, academic and otherwise, nurture qualities such as leadership, discipline, organizational capability and managing skills.Also college campus with WIFI facilities,Blackboard technology enabled ,air conditioned classrooms with Interactive smart boards
Mission
By strengthening the teaching-learning process through innovative practices, the institution will stimulate the spirit of scientific enquiry and discovery in academics. By providing state-of-the-art institutional infrastructure and excellent human resources the college will foster a better educational environment. The institute will also impart training in entrepreneurial and life skills for enhancing employability.
Vision
To be recognized as a premier educational institution that practices quality pedagogy, encourages innovation and research while instilling values and providing a vibrant environment for the holistic development of students into valuable global citizens.
Objectives:
To hone students' focus and help them gain depth in their chosen area of study to achieve  academic excellence
To enable them to prepare for lifelong learning by nurturing independent thinking.
To sensitize the students towards the immediate environment and the society at large
To provide a platform to actualize students' talents and encourage them to mould their passion into profession.
COURSES OFFERED:
BA,BCOM.BSC,BMS,BAF,BBI,BAMMC