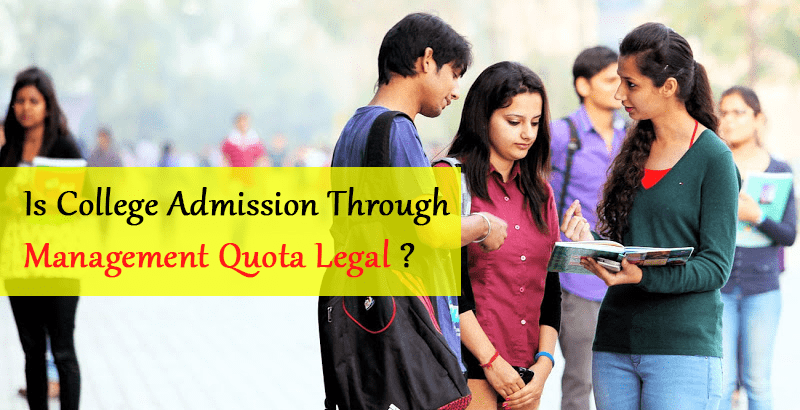 Disclaimer: This article is relevant for students who are looking to get admission through management Quota in colleges in India and Abroad.
What is Management Quota?
Management Quota is a government authorized mechanism provided to private or deemed University by which students can secure Direct Admission in institute.
Management Quota is only applicable in private or deemed Universities because they don't receive any grants from the government. So government allows private Institutes to fill 15% of their seat through management/ NRI Quota Seats.
85% of the seats are filled on merit basis and the remaining 15% seats can be filled by the management of that institute. However, there is eligibility criteria for the management Quota Seats as well.
For example, in engineering, one must have at least 50% in Senior secondary school examination to apply for management Quota Seat. Similarly, for Medical and for other
What is the fees when getting Admission through Management Quota?
The fees of a management Quota student is usually 3 – 4 times the normal fees. There is a simple reason for this.
From the management point of view, this is their chance to fill 15% of the seats on their discrepancy and it is economically good for the Institute, which is authorized by the government.
From the students point of view, they are simply compensating for the low grades with financial aid to the institute and getting a chance to get same education as the meritorious students.
Simply put, this is a win-win case for the students and for the Institute.
Please note that a lot of people call Admission through Management Quota, Donation, which is not the case.
Is Management Quota Legal?
Yes, it's absolutely legal. Government of India has authorized private and deemed college to fill 15% of their seat through Management Quota.
The first thing that one is reminded of is bribe in the form of donation or several other terms when it comes to Management Quota. The same rakes a couple of questions like, is Management Quota legal? Is it fair? Is it not a way of cheating? And so on. Most of us would be surprised at the fact that management quota is completely legal. Here's how
Private colleges are usually run by a single or a group of investors who invest a huge chunk of capital to provide for great education. The 15 percent leeway acts as a barrier for the management to cease losses and recover little by little of the capital invested. It also serves to meet the interests of the management of a given institution.
Management quota therefore stands legal serving as a helping hand to the management of any given deemed/ private institution.
How Can E2P Consultancy can help you with Management Quota Admissions?
E2P Consultancy is an Education Consultancy firm that stepped in to offer help with admissions to struggling students in need. Often, students are unaware of the requisite fees when it comes to getting a seat through management quota.
Most of the students are also innocent to the legality of the same, which leads to cheating and misleading of facts at the time of admission. With over a decade of experience and after placing over 1000 students in various institutes across the globe.
Applying through E2P consultancy, a student can easily educate himself with the underlying rules of a desired course and approach an institute legally with the help of a well informed consultant. Therefore to eliminate misconceptions or being cheated by misleading personnel, it is extremely important to carry out such kind of admissions through a reputed consultancy firm.
On the other hand, any given study institution prefers to go about with management quota admissions through a consultancy as well.

To put it perspicuously, Management quota is merely an advantage a student can use to rebuild and pursue a career of his choice in a reputed institution without the guilt of snatching the seat of a merit holder. It is also an opportunity to start afresh and build a career with utmost dedication without having to compromise on the comfort of a good college.
CALL +91-9822274425 / +919927800124 / +918888810425 for more information.